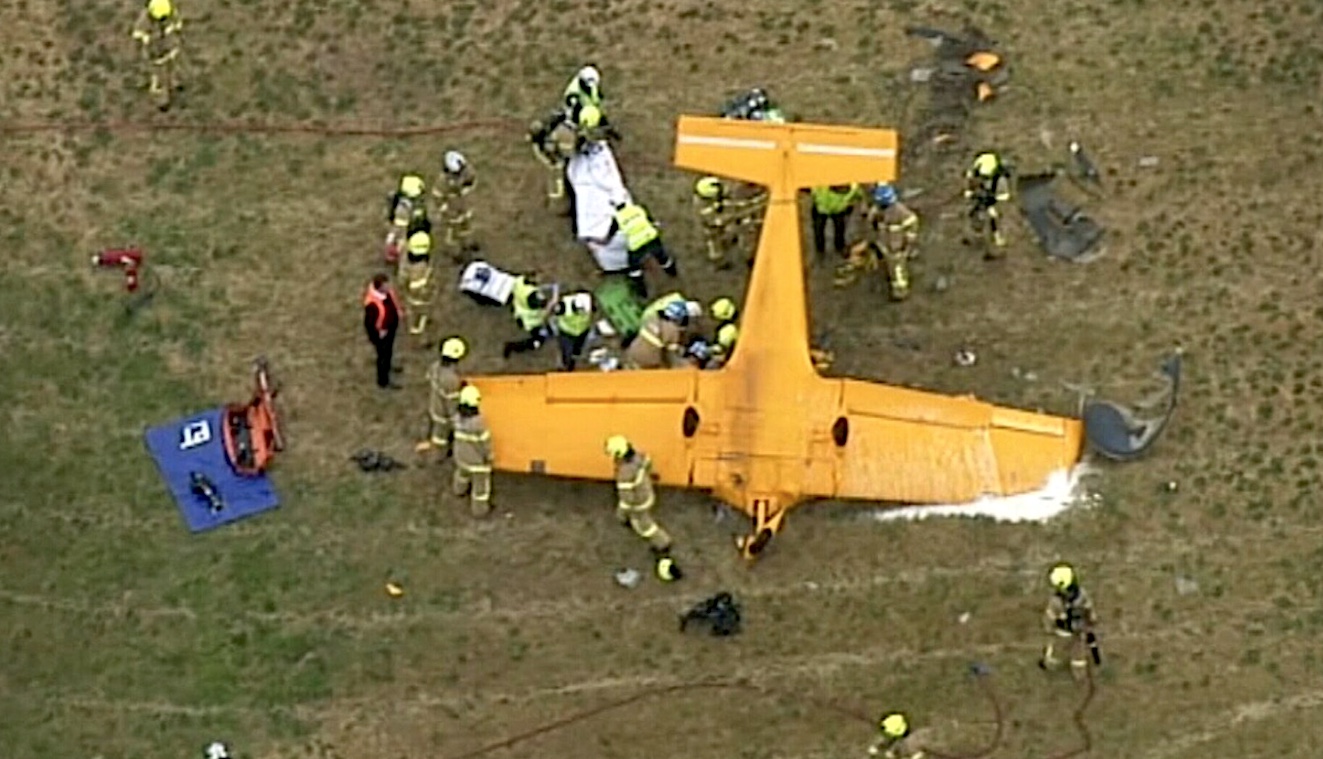 I've just experienced at first hand appallingly wrong media reports of an aeroplane accident at our local airport in Moorabbin, near Melbourne. If the media can get so wrong a basic report like this, how can they ever be believed when it comes to more complex issues?
However, irrespective of the wrong reporting, our thoughts are with the pilot, who was taken to hospital with serious injuries.
The story goes like this: accompanied by stills and video of the accident site, reports – so similar they must have just been blindly copied from one source – said a light aircraft had 'come down' at Moorabbin Airport. Two people were on board and the aircraft was a 'high wing A22 Foxbat, made in Ukraine' owned by a local flying school. 24 emergency personnel were on site, currently working to free the pilot, who remained in the aircraft.
Even a cursory glance at the picture of the inverted aeroplane (see above) shows it to be a low wing, not a high wing. It also turns out that there was only one person – the pilot – on board and the accident almost certainly resulted from a runway departure, either on take-off or landing. Quite an exaggeration to say the aircraft had 'come down'.
I tried to find phone numbers for the various news media which published the report – ABC, Channel 9 News, 3AW, Herald Sun and The Age newspaper – to advise them of the errors. Have you ever tried to find a phone number for these people to correct their mistakes? Forget it, they just don't publish such numbers. Presumably, the last thing they want is people calling to point out errors in their stories, as their lines would be permanently clogged!
In the end, I sent 'urgent' emails to the various newsrooms to say the aircraft was not a Foxbat. Only The Age newspaper responded with an apology by email and immediate correction on their online news page. Without any kind of acknowledgement, over the next half an hour most of the others removed the reference to the Foxbat, substituting with words like 'a small 2-seat light aircraft'. I still don't know if the Herald Sun changed their feed as they insist you pay a subscription to see their news!
This kind of erroneous reporting brings to mind another event at Moorabbin, where one of our Vixxens made a heavy bounced landing in very windy conditions and bent the nose landing gear. Right or wrong, the pilot elected to go round after the impact, only to be warned by the tower of the bent gear. At that time, almost all the media reported that the aircraft was 'circling while the pilot attempted to fix the landing gear' – a clearly ridiculous statement if you thought about it for only half a second! In fact, following emergency personnel advice, he was waiting for a foam blanket to be laid on the runway before making a successful landing, during which the nose leg fully collapsed and the aircraft remained upright. Both pilot and passenger walked away without a scratch.
In my personal experience, I have learned these lessons about news stories:
1. They have almost certainly not been given even a basic facts check.
2. The media makes it as difficult as possible for you to correct their mistakes.
3. If they get even simple, easy to check, stories wrong, how on earth can their reporting on more complex issues be believed?
4. It is very easy for people to state complete lies and the news media will publish it.
You have been warned!