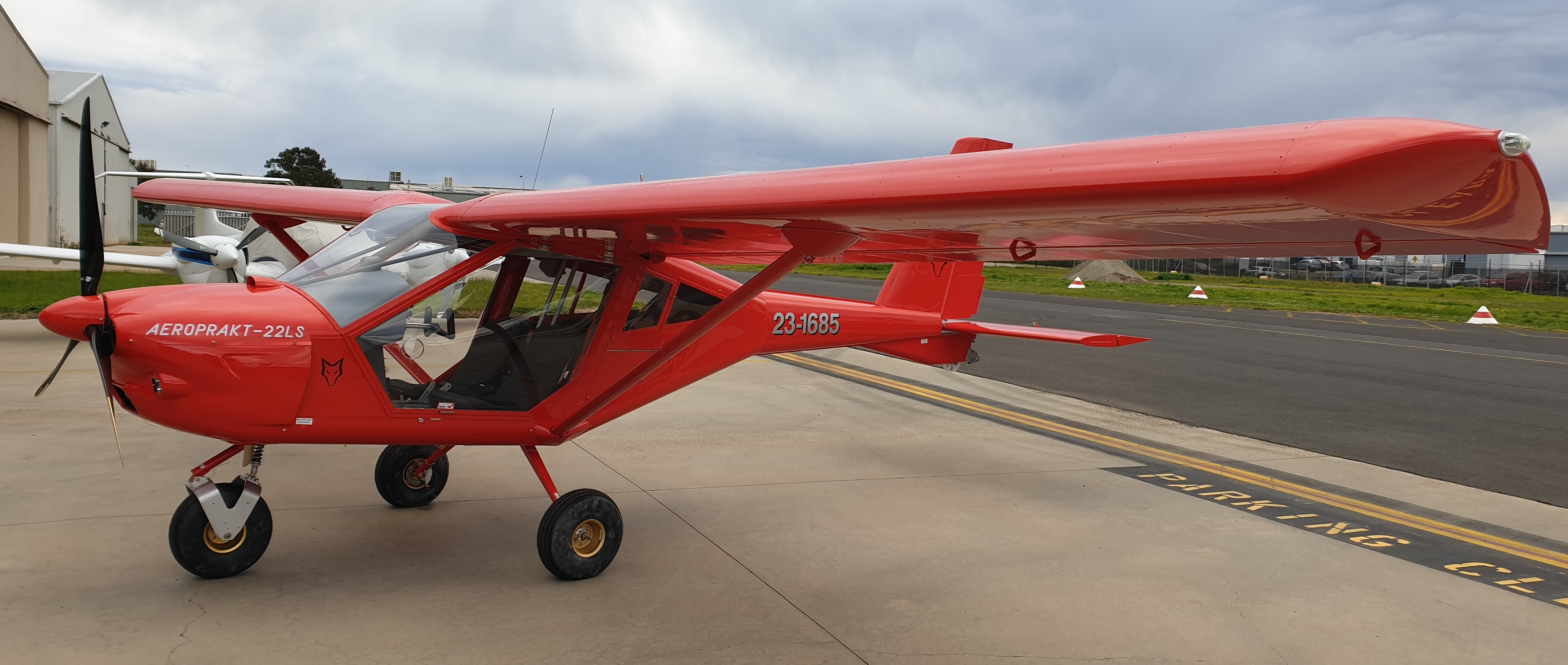 Way back in late January 2020, Simon and Jane, who live near Cairns in north Queensland, ordered a new red Foxbat. Remember those days? We were dealing with summer temperatures, bushfires and had no inkling of what was to come.
The Aeroprakt factory made and shipped the aircraft and it arrived more-or-less on schedule at Melbourne docks in early June. With many thanks to the factory for keeping to their deadlines and the shipping companies for (almost) meeting theirs.
In late June all was looking good…
At that time, virus-wise, things were looking OK for Simon and Jane to pick up their aircraft from Melbourne and fly it the 1300 nautical miles (about 2500 kilometres) back home. The 'first wave' of COVID-19 seemed to be well under control right across Australia and we were all looking forward to a loosening of lock-down  restrictions. We got on with re-assembling the aircraft at Moorabbin, south of Melbourne, getting it signed off and all the many admin things you need to do to get a new aircraft registered and test-flown.
Then fate took a heavy hand and, due to rising cases of 'community transmission' COVID-19 cases in Victoria (where Melbourne is located), Queensland and New South Wales (which lies between Victoria and Queensland) closed their borders in early July to stop people travelling from Victoria. It looked like Simon and Jane would have to wait at least 6 weeks before they could fly their nice new shiny red aeroplane. However, as they say, 'where there's a will, there's a way'.
Willing a way
After some research, Simon and I agreed it might be possible for me to apply for a New South Wales border permit, to allow me to fly their aircraft just across the border from Victoria to a place called Albury –  a thriving country New South Wales town, with a sizeable airport. Which crucially had scheduled airline flights available back to Melbourne. Simon and Jane would fly scheduled flights to Albury, via Sydney, to meet me and take over their aeroplane at Albury.
So I checked with Victorian authorities – OK to travel for work which could not be done at home…delivering an aeroplane is not a desk job! I do not live in or near a Victorian 'virus hot spot' and I applied online for the New South Wales border exemption permit, which was granted immediately. Availability of a return flight was checked and booked, as was a motel in Albury for an overnight stay, as Simon and Jane could not arrive until after dark, meaning an early morning handover the next day. Finally, I called Albury Airport management to check what, if anything, I needed to do after landing – with regard to the permit, health checks and so on. They were very helpful and advised me to call them after arrival and they would direct me accordingly. So we were all set to go.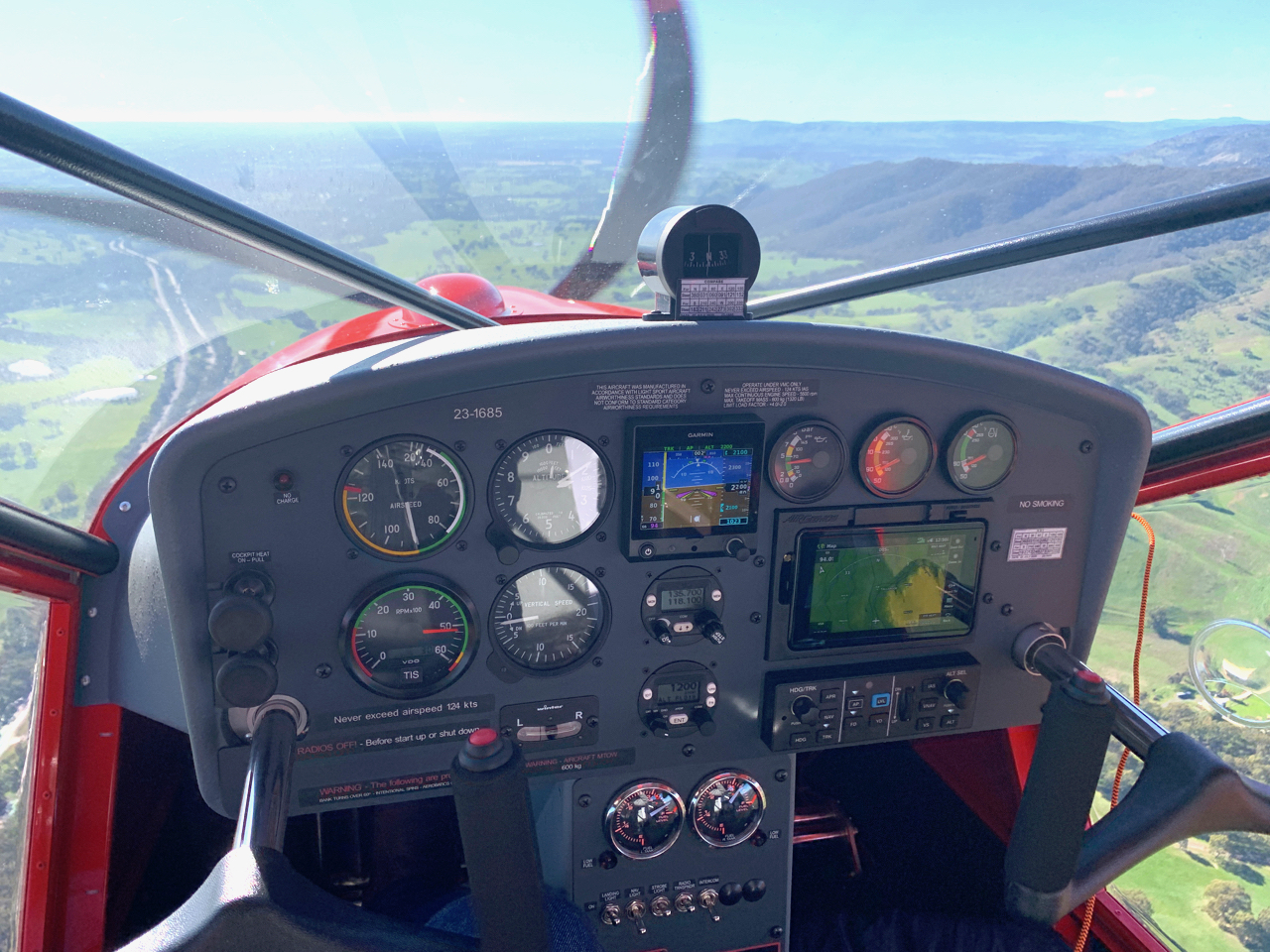 Off I go
The day of the flight from Moorabbin to Albury dawned clear and sunny, with even a light southerly tail wind to guide me on my way! But, as usual with a southerly at this time of year, the Kilmore Gap through the hills to the north was clouded in and I had to delay departure by a few hours to wait for the cloud base to lift. So eventually I set off for Yarrawonga, a rest and refuel stop on the way to Albury, to pick up a Foxbat cabin cover from Diane at Punkinhead Airsports and a Mr Funnel filter from Peter McLean at P&M Aviation, both ordered by Simon.
I landed at Albury around 4.00pm in the afternoon. The airport manager took all my details over the phone and cleared me to exit the airport and go to my motel. So far so good!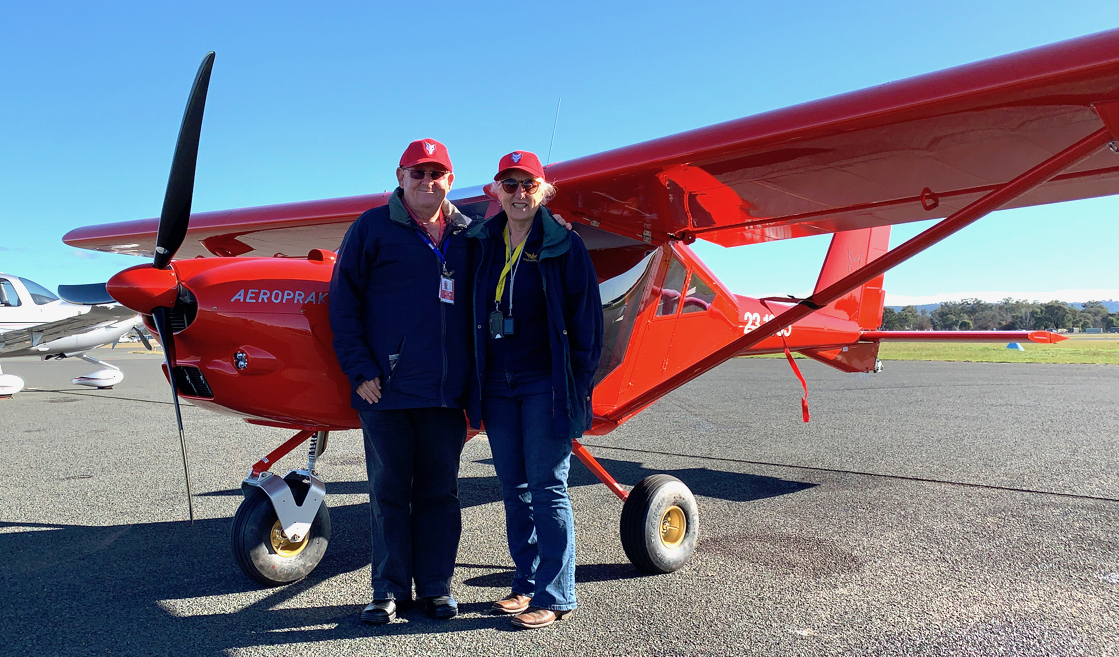 Lockdown handover
The next morning, I met Simon and Jane – who stayed at the same motel (I think we may have been the only guests) – and we went to the airport in their hire car. Out of respect for them, I wore a mask in the car and later in the plane with Simon, while we did circuits – I'm pretty sure I am not infected but the last thing I wanted to do was to start a new 'cluster'! The Foxbat was duly inspected and all the items on the handover checklist ticked off and then Simon and I went for a few circuits so he could familiarise himself with his version of the Foxbat – he's flown several others as part of his prep for the trip.
Finally it was time for me to wish them bon voyage back to Cairns – probably a leisurely 2-3 day trip – and I proceeded to the passenger terminal to check in for my flight back to Melbourne.
Pandemic shocks
Now here's where the pandemic really started to come home to me. I suppose, living on Melbourne's beautiful Bayside has, to some extent, insulated me from the economic and social pandemonium going on. I have been able to continue to shop for groceries and other essentials, ride my bike for exercise along the Beach Road, continue to receive and send spare parts to Foxbat & Vixxen owners, and visit my GP if needed.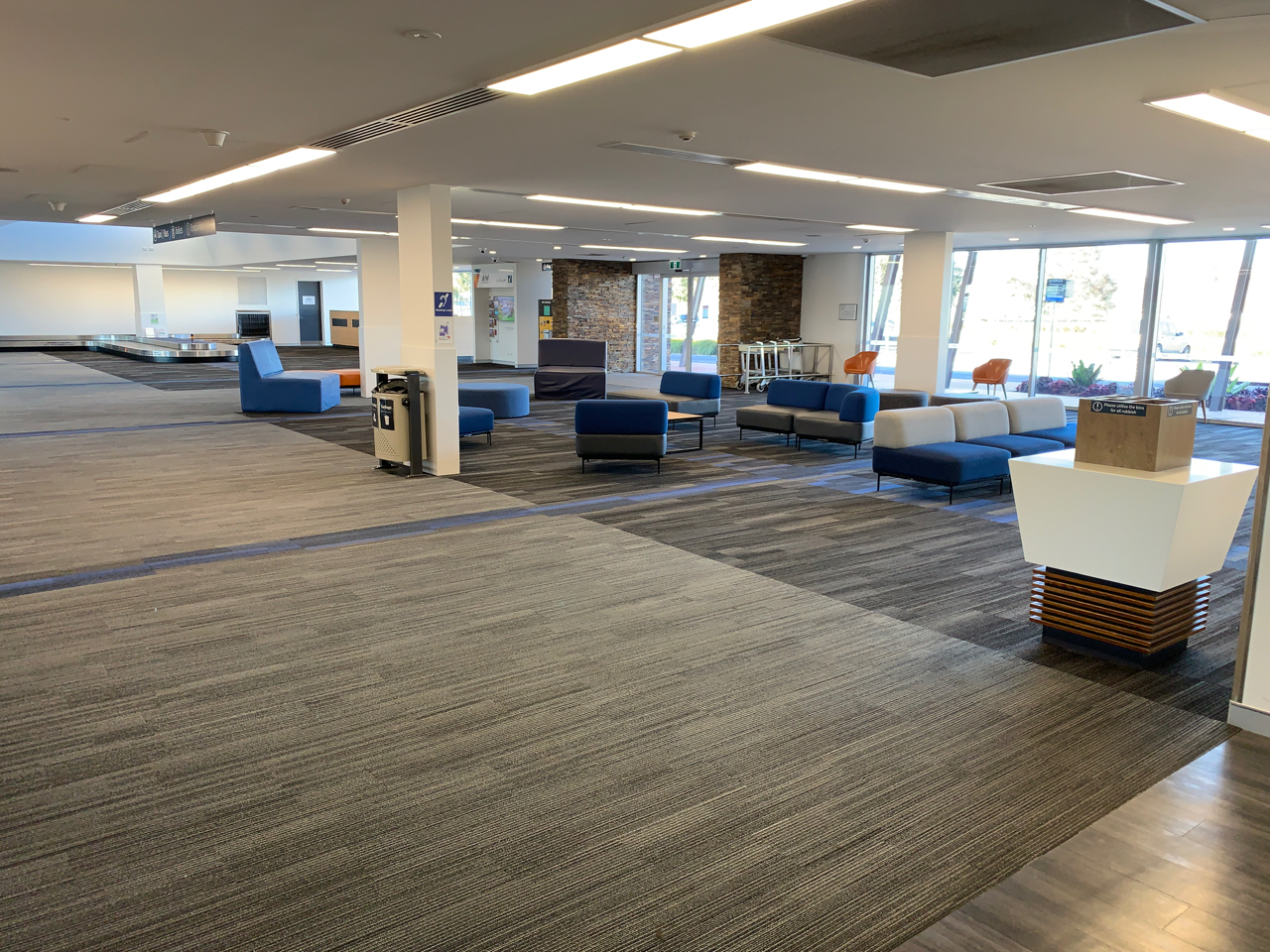 My return flight was with Rex, fully known as 'Regional Express' airline. First shock – the Albury passenger terminal was completely empty. I went to the Rex check-in desk really expecting to be told the flight was cancelled. Then, second shock – it was running OK and I was the only passenger on the SAAB twin turbo-prop aircraft. It was very strange when the pilot, announcing our descent into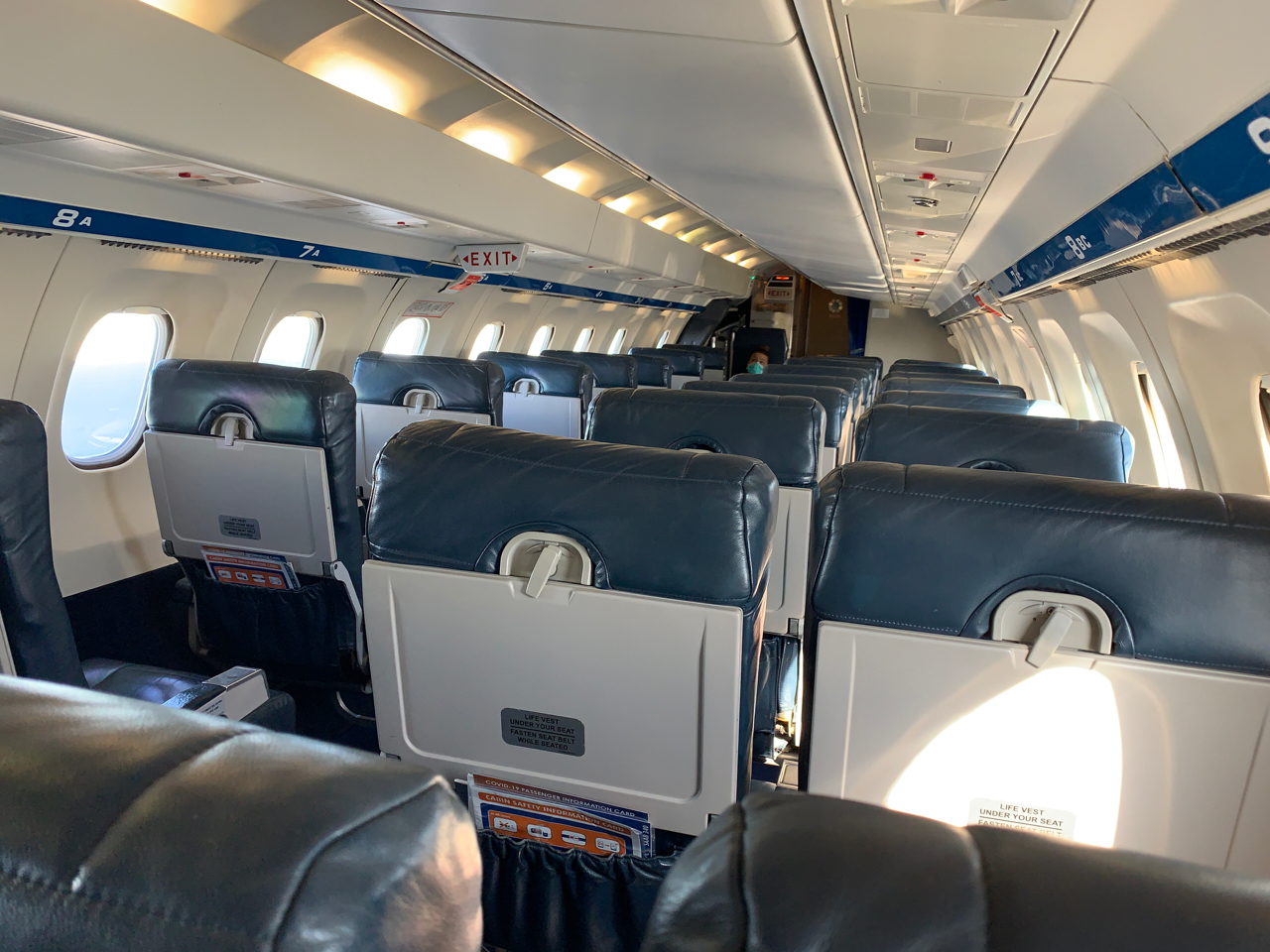 Melbourne, addressed me by name! A nice touch – now I know what it feels like (well, almost) to have your own private airliner!
Arriving in Melbourne Airport was eerie. The Rex turbo-prop parked way out on the apron and I disembarked and boarded – still alone – a shuttle bus back to the terminal, passing row upon row of mothballed JetStar Airbus airliners, engines cocooned and landing gear covered in plastic protection. Very weird.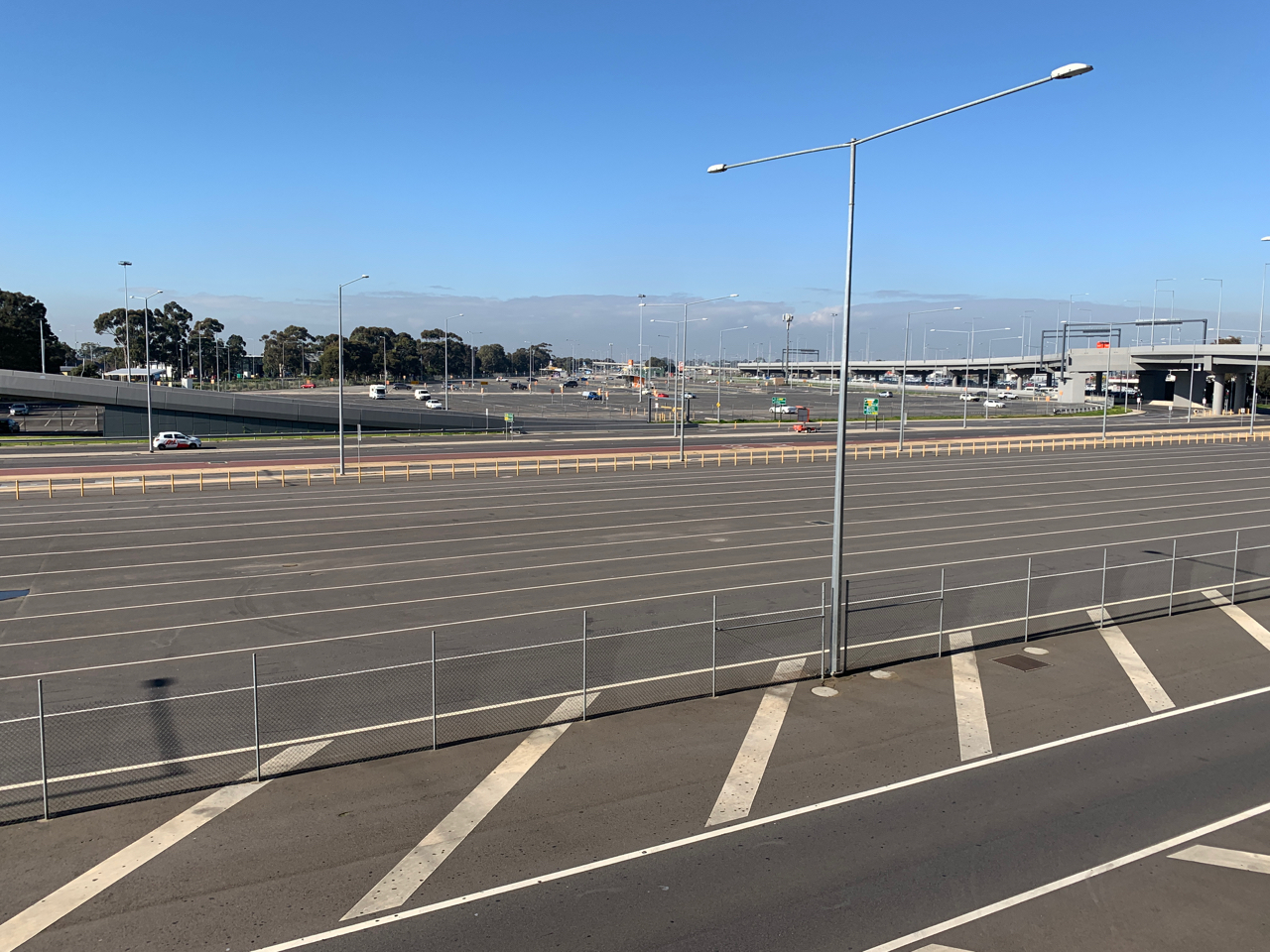 My partner Louise met me in the car park and we started our journey home in the car. I was stunned as we exited the multi-storey park to see a vista of completely empty long-term car parks, as far as the eye could see. The mothballed aircraft were shocking enough but somehow the hectares and hectares of empty long-term car parks really hit home. And this is just Melbourne airport – this picture is repeated many times over around the world.
This pandemic is something completely outside our experience, knowledge and understanding. The economic cost is astonishing. And for those whose loved ones have died or suffered long-term consequences from the disease, we can hardly imagine their devastation. Let's hope for an effective vaccine and/or treatment soon, so we can begin to recover our health and sanity.